Numerous area theaters and auditoriums have housed the Jamboree since it's launch!
Fidelity Building
Early Studios
1927-1930
Hawley Building
Home of Studio A
1930-1933
The Victoria
1934 & 2009
Capitol Theatre
(Capitol Music Hall)
1933-1934 / 1969-2005
The Virginia
1935-1936
1946-1962
State Theater
1940's
Colonial Theater
1940's
The Rex
(The Coronet 70's)
1962-1965
Market Auditorium
1937-1945
Liberty Theater
1940's
Wheeling Island
Exposition Hall
1965-1969
Brush Run Park
Original Site of
Jamboree in the Hills
1977 & 2008
Scottish Rite
Theatre
2010
River City
Artisan Center
2010
1959 The Golden Era of the Jamboree
1983 NBC News feature of the 50th Jamboree Anniversary
2006 Documentary Part 1
Be sure to watch for a very young Brad Paisley!


*The Information contained in this WV PBS documentary contains errors and omissions regarding the reporting of the transition of the Jamboree ownership and timeline.

2006 Documentary Part 2
*The Information contained in this WV PBS documentary contains errors and omissions regarding the reporting of the transition of the Jamboree ownership and timeline.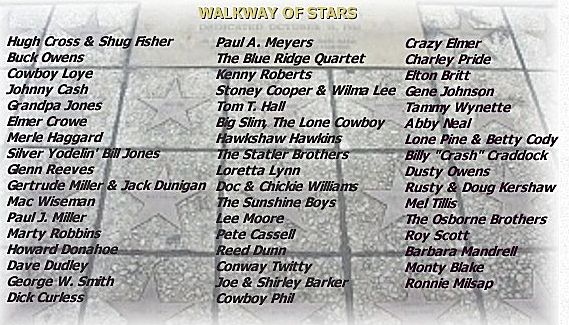 Country Music Walkway at Wheeling's Capitol Theatre
Stars of The Original Wheeling Jamboree & Jamboree USA
The below article is Credited to author Chuck Miller: Visit Chuck's Website
It was originally published in Summer 2003 - The Journal of Country Music.

Radio station WWVA aired its first broadcast on December 13, 1926, and from that moment the "Friendly Voice from Out of the Hills of West Virginia" entertained its listeners with a combination of news and farm reports, original dramas and national programs from the Columbia Broadcasting System (CBS). The broadcast facilities were in physics teacher
John C. Stroebel's house; Stroebel had experimented with crystal radio sets for years, and this was his first foray into broadcasting. The fifty-watt transmitter was stored in his basement; the studios were in his parlor. Within a year, the station grew to 500 watts of power and found new lodgings in the Fidelity Investment Building in downtown Wheeling.
In the late 1920s and early 1930s the most popular country music performer, on radio or off, was Jimmie Rodgers, "The Singing Brakeman." Rodgers's yodeling and railroad-themed recordings struck a chord with rural American listeners, making him one of the most popular artists in the 1920s. And as many stations across the country added a country music program or "barn dance" broadcast to accommodate requests for Rodgers's music (as well as for recordings by the Carter Family and Vernon Dalhart), WWVA's own on-air talent also catered to their listeners' requests for yodeling songs. One of WWVA's earliest vocal groups, the Sparkling Four, added yodeling songs to their performances, and one of the Sparking Four's members, William Wallace Jones, went on to become "Silver Yodelin' Bill Jones," WWVA's first recurring radio soloist. WWVA joined the CBS radio network in May 1931, and local musicians often filled the station's non-network airtime. Those same musicians then used the exposure to advertise show dates at various clubs and theaters around the Wheeling area. Guitarist Slim Bryant performed on WWVA in the early 1930s, a short stop on his career as a successful guitarist and songwriter. "The money at that time was in personal appearances, not in radio-- you couldn't make money just being on the radio," Bryant explained. "You go into a place and get on the radio and play, and then you work in the area for about six or eight months in a year, and move on. We did that for ten years."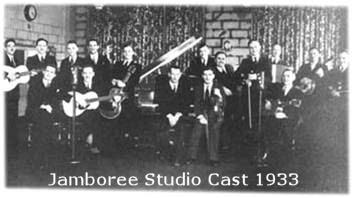 But the success of these live performances spurred WWVA owner George W. Smith toward an idea. In January 1933 Smith gathered several local musicians, set them up at WWVA's Hawley Building studios, and broadcast the program as a late-night Saturday Jamboree. The first Jamboree show featured Fred Craddock's Happy Five; the performing trio Ginger, Snap, and Sparky; the singing Tweedy Brothers; and announcer-harmonica virtuoso Felix Adams. Listeners within WWVA's growing 5,000-watt broadcast radius loved the program, and by March 1933, the occasional series of Jamboree specials became a regular Saturday night feature.
One month later, the Jamboree moved to the Capitol Theatre, as over 3,200 patrons paid twenty-five cents each to see the stars whose music filled the airwaves--and their hearts. The Capitol Theatre broadcasts were such a success that WWVA eventually moved the Jamboree to the more informal Wheeling Market Auditorium. A 1934 "Jamboree Harvest Home Festival" in the huge Capitol Theatre drew a capacity crowd, and the station knew
their Saturday night concerts were here to stay.
Among the early performers on WWVA were Loye Donald Pack, professionally known as singerguitarist "Cowboy" Loye; "wandering minstrel" Elmer Crowe, who spent most of his performances searching for his "lost rib"; an African-American spiritual quintet called the Wheeling Weird Travelers; and Marshall Jones, a banjo and guitar player who would later achieve fame as Grandpa Jones. Although mainstream country music was a staple of WWVA's broadcast schedule, the station also aired music from the Croatian Junior Tamburitza Orchestra, Hawaiian music from the Royal Serenaders, and big band music from Earl Summers, Jr. and His Orchestra.
The success of the Jamboree broadcasts mirrored other "barn dance" programs aired throughout America. During the 1930s, it seemed every major city from New York to Los Angeles had a station with a country music variety program. Besides WWVA's Jamboree and WSM's Grand Ole Opry, there were the "Brush Creek Follies" at Kansas City's KMBC; the "Hoosier Hop" at Fort Wayne, Indiana's WOWO; and the "Iowa Barn Dance Frolic" at WHO in Des Moines. There was even a Dinner Bell Roundup broadcast from KXLA in Pasadena, California, as well as a Village Barn Dance broadcast from Greenwich Village in New York City. These radio programs and live simulcasts gave country music artists a chance to promote their records and concert appearances. By the end of the 1930s, there were over 600 daytime and evening country shows nationwide, catering to a combined audience of some 40 million listeners.
The March 1936 Wheeling flood temporarily suspended the Jamboree performances, as artists volunteered their services for disaster relief and public assistance. The wooden chairs at the Wheeling Market Auditorium were replaced with mattresses so families displaced from their flooded homes could find a place to sleep. WWVA broadcast live for over ninety straight hours, presenting news and vital information as the flood waters crested at over fifty-five feet above sea level. Six months after the Wheeling flood, however, a special "Wheeling Centennial" Jamboree concert drew 5,000 country music fans to a local football stadium, the biggest crowd to date for the fledgling Jamboree. In 1937 Doc Williams and his Border Riders, a new musical group from Pittsburgh, signed up with WWVA and instantly became one of the most popular acts on the Jamboree. Their leader, Doc Williams, was born Andrew Smik, the son of eastern European immigrants, and grew up on a small farm in Cowansville, Pennsylvania. A lifelong music fan, Smik would listen to Jimmie Rodgers 78s on a neighbor's phonograph. Within a few years, and with his father's help and guidance, Smik and his younger brother Milo could play several instruments, including cornet, banjo, and fiddle. By the early 1930s, the brothers and their band were performing on several radio stations throughout the Ohio-Pennsylvania-West Virginia broadcast area. By 1937 Andrew Smik had changed his name to Doc Williams, renamed his group "Doc Williams' Border Riders," and secured an audition for a 2:45 p.m. daily live broadcast over WWVA. In March 1938 Doc Williams' Border Riders were voted the most popular performers on WWVA. That year, the lineup of the Border Riders included Doc Williams on guitar and his brother Mio Smik ("Cy Williams") on accordion, as well as vocalist Harry McAuliffe ("Big Slim, The Lone Cowboy"), female vocalist Mary Calvas ("Sunflower"), and Hamilton Pincher ("Rawhide") as the band's resident humorist. In 1946 Williams's wife Wanda joined the Border Riders as "Chickie Williams." By 1947 the Border Riders had completed the ensemble with Marion Martin, a blind musician who could skillfully replicate a violin or a harmonica on his accordion.
Without question, Doc Williams's Border Riders were the most popular group on WWVA and on the Jamboree stage. As Brad Paisley put it, "Doc Williams is a legendary music figure where I come from. His contribution to music is greater than anyone realizes. He was like the Roy Acuff of the Jamboree." Indeed, Williams had solid sponsorship for his radio show from Coco Wheats Cereal, had his own record company (Wheeling Records, which still exists to this day), and later opened his own souvenir store in downtown Wheeling. His mixture of old ballads, songs of faith, uplifting homilies, and sprightly polkas kept the Border Riders the longest-performing act in Jamboree history. Even into the 1980s, Doc and Chickie Williams still made appearances on the Jamboree stage, performing to the children and grandchildren of their earliest fans. Another popular tradition-minded act on WWVA were the Clinch Mountain Clan, led by Wilma Lee and Stoney Cooper. Both were originally part of the Leary Family vocal group (Wilma Lee's maiden name was Leary), but struck out on their own in 1940. After years of success on radio stations and stages from Nebraska to North Carolina, the Coopers joined the Jamboree in 1947. They stayed with the Jamboree for a decade, until they left for the Grand Ole Opry. Opting for an acoustic, Appalachian-based sound, the Clinch Mountain Clan combined Stoney's fiddle and Wilma Lee's guitar with sacred songs and traditional ballads, as well as a honky-tonk song or two. Their songs "Legend of the Dogwood Tree," "Walking My Lord up Calvary Hill," and "The Wicked Path of Sin" became popular standards. When Wilma Lee Cooper was inducted into the Society for the Preservation of Bluegrass Music of America's Hall of Greats, biographer Frank Overstreet noted that although "The Wicked Path of Sin" was originally composed by Bill Monroe and performed with his Bluegrass Boys in 1946, they did not release it as a record until 1948. Before that record's release, Wilma Lee heard Monroe's band performing the song on the radio. She copied down the lyrics in shorthand and recorded it with Stoney Cooper. Their version was released weeks before Monroe's rendition hit the stores.
Each band also had a resident comedian who could bring levity or mirth to an audience whenever necessary. At one time or another, Doc Williams's Border Riders featured such musician-comedians as Dapper Dan Martin, Smokey Pleacher, and Hiram Hayseed, while Lazy Jim Day and Cy Sneezeweed were independent performers who also made Jamboree audiences laugh. Of all WWVA comedians, however, the most popular was born Anthony Slater. While he performed standards and yodel-filled ballads using the stage name Smiley (or Smilie) Sutter (he won the West Virginia state yodeling championship in 1938), he was best known as Crazy Elmer Squeezix, "King of the Country Comics." Every Saturday night Crazy Elmer treated the Jamboree audience to a hilarious twenty-minute sketch, often co-starring Monte Blake as his straight man. During one Jamboree show in 1941 Crazy Elmer performed a comedic rifle presentment drill that had the audience roaring with laughter. "Elmer taught himself how to yodel," said Doc Williams. "Onstage, he could place his feet into a slot on the stage, and, while still standing, would lean nearly forty-five degrees. He also had a rope trick, where he would pull on a taut rope, drag the rope offstage, and the audience would later see Elmer being pulled from the other end of the rope, from the other end of the stage!" The Jamboree broadcast also featured audience participation. During the show, production manager Paul Miller would allow audience members to say hello to the folks back home. The "Inquiring Mike" became a popular feature of the Jamboree, as WWVA officials could gauge their broadcast radius by how far people would travel just to greet their families and friends. "Song of the W.W.V.A. Jamboree," written by staff pianist Vivian Miller, added additional spice to the broadcast. At the beginning of each show, the Jamboree performers would take the stage and perform in unison with the enthusiasm of a college cheerleading team: "Now here's the Jamboree to greet you / In the good old fashioned way / We'll do our best top/ease you / and hope that you'll feel gay / We are more than glad to see you / and we hope you'll be carefree / So laugh and smile with us awhile / On the midnight Jamboree."
The WWVA Jamboree performers formed an extended family, and as new singers and musicians joined the cast, established artists helped show them the ropes. Sonny Davis, who with his sister Honey formed the popular Davis Twins, recalls his indoctrination into the Jamboree family. "We took first place in a talent contest out of a couple hundred contestants. This was in 1938, and we were twelve years old at the time. Somehow, Tommy Nelson and Blame Smith heard about us and talked to our parents and wanted us to go to WWVA in Wheeling and be fall-rime members of their show. Our parents thought us to be too young, and they would have had to have one of them with us, and they didn't want to do this at that time. Two years later, Tommy and Blame came back to see our parents, and they agreed at that time to let us go to Wheeling, with our mother as chaperone. This was a great thrill to my sister and me being members of the 'World's Original Jamboree.' Tommy and Blame thought we needed a name change that would be easy to remember in radio, and everyone called my sister Honey, so we decided to take the name Honey and Sonny, The Davis Twins. At that time WWVA rated with the top Jamboree shows, along with the Grand Ole Opry and the WLS Barn Dance in Chicago. Later, Honey and I were rated the number two duet in the country, with Lulu Belle and Scotty being number one out of WLS in Chicago."
Many Jamboree artists also performed during the week on WWVA. Each act had its own fifteen-minute spot on WWVA, on which performers would sing and interact with announcers Lew Clawson and Wyn Sheldon, who dutifully read advertisements for Cooey-Bentz Co., Pinex Cough Syrup, Coco Wheats Cereal, Sterling Insurance, and Hamlin's Wizard Oil. These fifteen-minute commercials-with-music filled WWVA's morning and afternoon weekday broadcasts, while network feeds provided the station with much of its evening fare.
The effect of World War II on the Jamboree was immediate. Because the U.S. Defense Department warned against radio broadcasts with an audience-accessible microphone, the popular roving microphone segment, the "Inquiring Mike," was discontinued. With many of WWVA's on-air talent fighting overseas, including singers Curly Miller, Sonny Davis, and Jimmy Hutchinson, WWVA's broadcast now featured a number of local female vocalists, including Shirley Barker, Sunflower, Honey Davis, and the Newcomer Twins. By 1942 the Jamboree stage shows were discontinued, a victim of gas rationing and travel restrictions. The performers instead sang live in the WWVA studios on Saturday nights, raising money for the USO and urging listeners to buy war bonds.
Surprisingly, some servicemen claimed they could still pick up WWVA--whether it was a Jamboree special aired on the Armed Forces Radio Network, or through their shortwave radios. "At that time," recalled Doc Williams, "Army convoys were making their way through our part of the state, and any information about their movements would, our government thought, be of help to the Germans who were monitoring our signals. I'm sure the German intelligence officers, who understood English, listened to our music, and I'm sure they enjoyed it, as did our GI's."
On July 13, 1946, after the war ended, WWVA returned to stage performances, as audiences packed the Virginia Theatre for the resumption of Saturday night broadcasts. Among the new performers joining the Jamboree in 1946 was Harold "Hawkshaw" Hawkins, a gregarious performer from Huntington, West Virginia, billed in a 1946 souvenir album as having "forty yards of personality" or, later, as having eleven and a half yards. Hawkins spent some eight years as a member of the Jamboree, quickly becoming one of its most popular stars.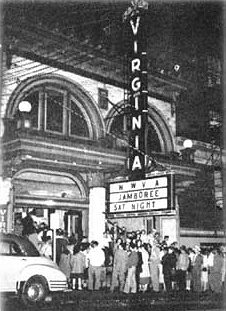 (Click here to see more past venue photos.)
"When Hawkshaw Hawkins first came to WWVA," said Sonny Davis, "they did not have a time slot open at the time, and they didn't want to lose him, so they came to us and asked if he could join our program until they could open up a time slot for him to have his own program. We agreed, and we worked with Hawk for some time, doing a lot of road shows with him even after he left our time slot and worked his own program." Hawkins left the Jamboree in 1948 but returned six months later to a standing-room-only "reunion" concert in his honor. He stayed with WWVA until 1954, joining the Grand Ole Opry a year later.
Hawkins was one of the few artists who recorded for a prominent label--the well-known, Cincinnati-based independent King Records--while still performing on the Jamboree. Wilma Lee and Stoney Cooper recorded for the small but significant Rich-R-Tone Records before joining the Jamboree; they would later release records on the Columbia and Hickory labels during their stay in West Virginia. Other artists, however, generally recorded for tiny independent labels with highly limited distribution, if they made records at all. For instance, Doc Williams pressed 78s and 45s on his own Wheeling label, while Lee and Juanita Moore recorded for the tiny Cross Country label. During the 1940s, WWVA executives preferred that their artists limit their musical output to live shows, including the Jamboree and other WWVA broadcasts. "That was a policy at WWVA at the time," affirmed bluegrass musician Mac Wiseman, who worked the Jamboree in the 1960s and 1970s. "WWVA's reason was if the artist became popular, they'd leave WWVA."
In 1947 Chickie Williams wanted to create a special Valentine's Day gift for her husband, Doc. She went to Harrison City, Pennsylvania, the hometown of Maxine and Eileen Newcomer, the blind Newcomer Twins who had retired from the Jamboree stage a year earlier. The Newcomer Twins never recorded professionally, but they owned a Webcor personal disc-cutting machine and often recorded their own performances from the airwaves. Using this machine, Chickie Williams read a poem, "Should You Go First and I Remain," while the Newcomers sang "I Love You Truly" in the background. Doc Williams was so impressed with the gift that he eventually recorded Chickie's recitation as part of a hymn, "Beyond the Sunset." "Beyond the Sunset," with Chickie's interpolation of "Should You Go First and I Remain," became a major hit for Doc Williams's Border Riders, and was covered by several artists including Hank Williams and, more recently, Johnny Cash and June Carter Cash.
By 1949 the Jamboree stage was once again filled with local soloists and bands. Because WWVA required artists to be available for the Jamboree every Saturday night, some nights there were more bands on the stage than the broadcast could accommodate. Doc Williams felt thirteen acts limited his airtime and hurt his wallet. "Some of the shows were good, some of them not so good," Williams explained. "So if you followed a bad performer, it would affect your show. I got to the point where I had eighty-seven dollars in my bank account, and I had an old beat-up car, about ready to collapse. I asked the boss, 'Could I leave here for one Saturday night?' "He said, 'What do you have in mind?' "I said, 'I've got three dates booked up in northern Maine, on the Quebec-New Brunswick border.' I went up there with six people in a borrowed car and eighty-seven dollars in my pocket for motels, eats, transportation, and not knowing if I was going to make a penny, because everything was on commission. I was in Maine for ten days. I made enough money--even though I missed one Jamboree--to buy a new car when I got home." During the Maine concerts, Williams discovered that
WWVA's popularity extended far beyond the Ohio Valley. The station's 50,000-watt transmitters, perched on tall mountains in St. Clairsville, Ohio, were aimed northward. This meant WWVA could be heard in Pennsylvania, Delaware, New Jersey, New York, New England, Ontario, Quebec, and Atlantic Canada--a combined territory teeming with millions of country music lovers who could pick up 1170 AM at night with crystal clarity. When the Jamboree artists traveled through the
East Coast, they often packed such country music clubs as Toronto's Horseshoe Bar or the M-Bar-C Ranch in Carmel, Maine. "The first song that I wrote and recorded for Columbia was 'Hello Operator,"' said Dusty Owens, Jamboree member in the 1950s, "and we did a special promotion with Lee Moore, the all-night 'Coffee Drinking Night Hawk' disc jockey for WWVA. He would play that song 'Hello Operator' every thirty minutes, with the idea that the operator that would call from the farthest point out would get a record and an autographed photo of me. The farthest one that won it was living in St. John's, Newfoundland. At night, WWVA went into Newfoundland like a local station."
Eventually the entire nation received a taste of the Saturday night Jamboree. During the 1950s a thirty-minute block of the WWVA Jamboree was simulcast over the CBS radio network as part of the show Saturday Night--Country Style. That broadcast not only featured the WW/VA Jamboree, but also such other homegrown country music get-togethers as WRVA's Old Dominion Barn Dance from Richmond, Virginia; the Big D Jamboree from Dallas's KRLD; and Shreveport's Louisiana Hayride on KWKH. WWVA continued to feature guest stars on the Jamboree, mostly up-and-coming singers who worked the barn dance circuit to promote their first or most recent recordings. "I was there the night the Davis Sisters came to do a guest appearance on the Jamboree," said Dusty Owens, recalling the duo's performance in August 1953. "RCA had just released their song, 'I Forgot More than You'll Ever Know.' They had that song climbing the charts when they came over to promote it and do a guest shot on the Jamboree. They had a unique blend of voices at that time, and they were very good, very vivacious, and they entertained. I thought they had a great future ahead of them. After the midnight show, they left from the station and took off for home, and that was the night that Betty Jack Davis got killed in an automobile accident. We were all very saddened when that accident took place."
Skeeter, the other Davis Sister in the car that night, would eventually recover from her injuries. A decade later, in 1962-1963 she charted her crossover smash "The End of the World," and solidified her Grand Ole Opry stardom.
By the early 1960s, however, Jamboree audiences were shrinking. The Virginia Theatre, home to the show since 1946, was scheduled for demolition in 1962, and the Jamboree needed to find a new home. The program eventually moved to the 900-seat Rex Theater. David Richardson, a Wheeling resident, attended Jamboree shows in the early 1960s. "There were always seats open. They had footlights, and I remember the color was so vivid with those footlights off of the instruments and the costumes. It was a really nicely lit stage, as I recall. That whole Saturday afternoon, WWVA would play the songs of people that were going to be playing on the Jamboree, so that when you were driving down there at four or five in the afternoon, you could hear some of the previews. The announcer would say, 'Now, here's who our featured guests will be, and here's a song.' Back in those days, people that they would play on the radio would not be necessarily the Nashville people; it would be the local people."
Yodelin' Kenny Roberts recalled the time when one of his idols, Jamboree regular Elton Britt, asked him to return to the stage. "Elton Britt used to be a member of the Jamboree, and Elton was my hero when I was a kid. When I was just starting out in the business I never dreamed I would ever become famous. I was such a fan of his. My show had already been over on the Jamboree that night; he was on later. He called me out on the stage to yodel with him. I went out, and we did two impromptu yodels, because he knew I knew all of his yodels. Hardrock Gunter got a hold of the tapes from that night, and Longhorn Records put it on an album. It's the only time you'll ever hear Elton Britt and me yodeling together, and the industry considers us the two best yodelers in America." In 1965 the new managing director of the Jamboree, former Jamboree performer Lee Sutton, added more acts to the roster to revitalize the lineup. He also moved the show to the 3,000-seat Wheeling Island Exhibition Hall. The new performers, who included Mac Wiseman, Esco Hankins, David Houston, and Jim Greer's Mac-O-Chee Valley Folks, complemented the lineup of established stars like Doc Williams, Crazy Elmer, and Lee Moore, and crowds eventually grew. WWVA's new focus on the Jamboree, combined with a 1966 change in format to the "Big Country Sound"--essentially an assortment of current country hits, not just the local favorites--increased attendance and exposure tremendously.
More nationally known, established country stars played the Jamboree, and eventually performers such as Johnny Cash, Buck Owens, Conway Twitty, and Merle Haggard made guest appearances. By 1969 WWVA's parent company, Basic Communications, had purchased and renovated the Capitol Theatre in downtown Wheeling, where the first Jamboree show aired in 1933. With an elaborate ribbon-cutting ceremony, the WWVA Jamboree moved to its permanent home in the Capitol Theatre (renamed the Capitol Music Hall), where the show - and WWVA's studios - remain to this day. The crowds at the Jamboree continued to build, as big-name, national country stars interacted with local talent every Saturday night. In October 1971 singer Charley Pride set attendance records with four sold-out shows at the Capitol Music Hall. Over 10,000 fans saw Pride, just named the Country Music Association Entertainer of the Year, perform his classic hits on the Jamboree stage with 1970s regulars Patti Powell, Slim Lehart, Dick Curless, and Bob Gallion. Mayor James Harzano presented Pride with a key to the city, and billboards in West Virginia proclaimed, "We Have Pride in Wheeling." During the 1970s the Jamboree expanded its performance schedule far beyond the Appalachian Mountains. Jamboree artists had undertaken some small package tours before World War II, mostly in clubs, concert halls, and gymnasiums throughout West Virginia, Ohio, and Pennsylvania. These package tours resumed in 1968, covering not only the Ohio Valley but also the Northeast. In 1970 WWVA musicians appeared at Montreal's "Man and His World" exposition and represented West Virginia tourism at the Canadian National Exhibition fairgrounds in Toronto.
In turn, Canadian country musicians traveled south to Wheeling for an opportunity to appear on the Jamboree. In his autobiography Stompin' Tom and the Connors Tone, Canadian country singer Stompin' Tom Connors recalled his 1970 appearance on the WWVA Jamboree stage: "On more than one occasion I thought of what a great benefit it might be to my career if I could do a guest shot on the Wheeling Jamboree. Think of the exposure and the prestige it might bring, especially if I got to sing a few of my songs about Canada. . . . That evening I got to do my interview over WWVA, say hello to all the people up in Canada, and talk a little about my career up to the present time.... I was about the third act on. . . . When I got into 'Sudbury Saturday Night' they started clapping their hands and banging their feet spontaneously and even came out with a whistle or two. By the time I finished off with my wild version of the 'Mule Skinner Blues,' they were falling in the aisles from laughing so hard."
On Christmas Day 1971 a special Jamboree broadcast was held at West Virginia Maximum Security Prison. Another Jamboree special in 1972, a salute to truck drivers, became a successful yearly concert, and Dick Curless released a live album, Live at the Wheeling Truck-Driver's Jamboree (Capitol 11119, recorded September 2, 1972), in 1973. In May 1972 the Jamboree held its first "Homecoming Reunion," bringing back legends from the show's past for another appearance on the stage. Doc and Chickie Williams hosted the show, while Wilma Lee and Stoney Cooper, Grandpa Jones, Crazy Elmer, Silver Yodelin' Bill Jones, Elmer Crowe, and Marion Martin took turns entertaining audiences one more time.
Beginning in 1977, a new series of Jamboree concerts, Jamboree in the Hills, drew thousands to an outdoor facility in St. Clairsville, Ohio. The first Jamboree in the Hills, in 1977, featured Johnny Cash, Asleep at the Wheel, Barbara Mandrell, Tom T. Hall, and Merle Haggard, and played to an overflow crowd of country music fans. Today Jamboree in the Hills is one of the largest and best-attended outdoor country concert series in the nation, as legends of country music's past and present share the stage for great performances.
In 1983 the Jamboree and WWVA honored the show's past, by embedding fifty bronze stars in the Capitol Music Hall sidewalk. Those fifty stars were named in honor of artists who performed on the Jamboree, and included both major country stars who visited the Jamboree for memorable guest appearances, and established regulars for whom the Jamboree was a long-time home and haven. Hawkshaw Hawkins has a star, as does Lee Moore. Doc Williams and his Border Riders are represented, as are Mac Wiseman and Elton Britt and Charley Pride and Grandpa Jones and dozens of other performers. During Christmas weekend 1984, a twelve-year-old Brad Paisley took the Jamboree stage to begin his performing career.
"I sang a song I wrote at a Rotary Club meeting; Tom Miller, the program director, invited me onto the show," Paisley reminisced fondly: "I remember getting up with just a guitar, and the audience was very receptive--probably because I was a little kid." Paisley became one of WWVA's regular rotating performers, warming up the crowd before the evening's headliner was introduced. "I opened for a list of performers like George Jones, Steve Wariner, Charley Pride, Jimmy Dickens, and so on. How did that happen? Where else does that happen? I can't imagine who I'd be without having that experience to lean on."

Brad Paisley didn't want to leave the concert, and begged his grandfather to let him stay. Paisley's grandfather had won tickets to see Jamboree USA, the venerable Wheeling, West Virginia, barn dance radio show and concert series, and John Conlee was performing that night. "I attended many shows at the Jamboree as a kid," said Paisley. "My grandpa was about to leave during the second-to-the-last song to beat traffic, but I wouldn't let him because John hadn't done 'Rose Colored Glasses' yet - so we stayed. My grandpa later said that I was right and that was the best song of the night." It was concerts like that--and live radio broadcasts--that drew Paisley to country music, where he has become a star. For seventy years, the Jamboree and radio station WWVA were the upper Ohio Valley's major link to country music, with performers as diverse and talented as Doc Williams's Border Riders, Hawkshaw Hawkins, Cowboy Loye, and "Crazy Elmer" commanding the stage and the airwaves. At night, WWVA's 50,000-watt transmitters reached radios throughout the Northeast, finding new fans in New Jersey, New York, New Hampshire, New Brunswick, and Newfoundland. In 2003, Jamboree USA celebrates its seventieth year of continuous broadcast; only the Grand Ole Opry has had a longer stage run. For millions of country music fans who come to the Capitol Music Hall every year, or who tune in the station on a Saturday night, Jamboree USA (known as the WWVA Jamboree until the early 1970s) is an important piece in the country music mosaic.
Eventually Paisley's career took off, and he was able to return to the Jamboree as a headliner. "I think I really felt like I'd made it when I returned there and headlined. Something about what your home folks think matters more. I know the Ohio Valley can attribute a large portion of its culture to the Jamboree. Country music is so big there--and it's due to that show."
Though WWVA has changed its format from country music to news-talk, Saturday nights are still reserved for live broadcasts from the stage of the Capitol Music Hall. The show's format hasn't changed much since Jamboree broadcasts began. The first forty minutes of each two-hour show begin with the Capitol Music Hall's house band, 11/70. In the 1980s, 11/70 only provided musical accompaniment for the vocalists. Today the staff band, led by Ron Retzer, along with several alternating artists, is a featured part of each broadcast, performing and interacting with the 2,500 paying customers and the many of listeners who still tune in 1170 AM on their radio dial.
After 11/70 has sufficiently warmed up the crowd, the headlining artist performs. Every Saturday night, Jamboree patrons see performers such as Earl Thomas Conley, Bill Anderson, Loretta Lynn, Ray Price, and Neal McCoy in an intimate, close-to-the-stage atmosphere. There are special themed performances such as an all-gospel Jamboree, a bluegrass spectacular, and the "Starquest Talent Search." Fans are still encouraged to take photographs of their favorite stars, so long as they stay in their seats and don't block the view of others. Commercials are still read live over the air, and some jingles are still performed on the stage.
Jamboree USA is a major part of Wheeling tourism, drawing thousands of visitors to the Capitol Music Hall and to downtown Wheeling every year. "Saturday Night Jamboree USA broadcasts and live shows are Wheeling culture and tourism," says Ron Retzer, "and you cannot speak of Wheeling culture and tourism without Jamboree USA in the very same sentence. I have done many shows in the eastern U.S. and Canada. When I talk to people before a show and they find out I'm from Wheeling, the first question is, 'Have you heard of the WWVA Jamboree?' When they find out I'm with the Jamboree, they treat me like a star."
On any given night of the Jamboree there could be another young singer or guitarist, who has ridden with his folks from Morgantown or Huntington or St. Clairsville or McKeesport, to see their favorite country singer live, up close, and personal. The live concert and radio show that launched the careers of Hawkshaw Hawkins, Doc and Chickie Williams, Silver Yodelin' Bill Jones, Lee and Juanita Moore, Dusty Owens, and Brad Paisley can still make dreams come true. Once upon a time you could tune your AM dial to 1170 on a clear Saturday night, might have picked up the Jamboree as clear as the day it first aired over seventy-five years ago. Today you just have to click your mouse!